Welcome to Al-Jude Village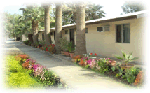 Al Judevillage welcome you to the living accomadation in the Al-Jubail Area.Come be our guest ,Stay a week ,a month or a lifetime.You will soon discover that staying in Al Jude village is more than just an extraordinary family vacation experience.
Learn More

nbsp;
Amenities
European life style
Transportation Facility
Restaurant
Children's Playground
24x7 Security
Supermarket
Swimming Pools
Landscaping Improvement
Tennis & Multipurpose Game Court
Laundry Services
Major Apliances
24x7 Maintenance Services
Acheivements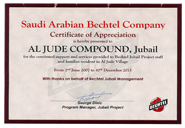 Al Judevillage received Appreciation Certificate for the continued support and services provided to Bechtel Project Staff and famlies resident in Al Jude Village.
We are grateful for your encouragement, support and being with us for long years.